The best electric snowblower in Canada in 2022 – Comparison, guide and opinion
It's winter, and as usual, the snow will come to complicate your task! It can quickly become annoying whether on the sidewalk, in front of your garage or on your terrace. Fortunately, there is a suitable and very effective device for clearing it: the snowblower!
Previously, it was almost mandatory to turn to a gas-powered snowblower to obtain truly optimal power. Now, electrical appliances are efficient and may be preferred by some buyers because they pollute less and are more intuitive to use and maintain.
That's why we analyzed and then compared 39 models of electric snowblowers sold in Canada for nearly 44 hours and took into account the opinions of 945 consumers.
Following our latest update, our favourite model is the Snow Joe SJ627E, which offers excellent versatility at a great value.
List of The Best Electric Snowblower in Canada in 2022
1. Snow Joe SJ627E
The Snow Joe SJ627E is a snow thrower that you can think of as a boosted version of the Snow Joe SJ623E, our 1st pick. It is distinguished by superior efficiency and good ideas to facilitate use in all circumstances but is generally a little more expensive: around $380 on the web.
Video demonstration of the Snow Joe SJ627E
What we think of the Snow Joe SJ627E
Let's immediately address what interests you: the effectiveness of the product. You will probably not be disappointed here since you can clear snow over a width of 55.88 cm or 22 in and a depth of 33.02 cm or 13 in. It is well above average and is sufficient for many situations.
In addition, no problem with wet or packed snow: the device is doing well, even if it tends to expel it a little less far. The directional chute, which you can adjust to an angle of 180°, offers a maximum discharge distance of 7.62 m, or 25 ft.
It is not the only element of comfort. You also benefit from a foldable handle, which allows for easier storage. At the same time, LED lights are integrated to enable you to work at any time of the day or night, depending on your availability and your motivation!
You are assisted in your task here by a rather fast 15 A motor, which allows you to get rid of 381 kg or 840 lb of snow in one minute. Suffice to say that if you have been used to a less powerful machine, you will have the impression of going into accelerated mode.
A two-year warranty is offered, and we didn't find any durability issues. The downside, in reality, is above all self-competition: the Snow Joe SJ623E being cheaper and often already more than enough.
Snow Joe SJ627E Feature Summary
The most pleasant to use on a daily basis.
LED lights, foldable handle, safety switch…
15 A motor / 381 kg or 840 lb of snow per minute.
Working width: 55.88 cm / 22 in.
Working depth: 33.02 cm / 13 in.
Product dimensions: 59.4 * 55.9 * 66 cm / 23.4 * 22.01 * 26 in.
Weight: 15.87 kg / 35 lbs.
2 years warranty.
Advantages and disadvantages of the Snow Joe SJ627E
Our verdict on the Snow Joe SJ627E
Efficiency4.0 out of 5.0 stars
Design5.0 out of 5.0 stars
Price3.0 out of 5.0 stars
Quality5.0 out of 5.0 stars
If its average price had been slightly lighter, the Snow Joe SJ627E might have been at the top of our list. For now, we consider it an option to study after other models, either a little cheaper for those with limited needs or a little more expensive for those with substantial needs.
2. Snow Joe ION100V-21SB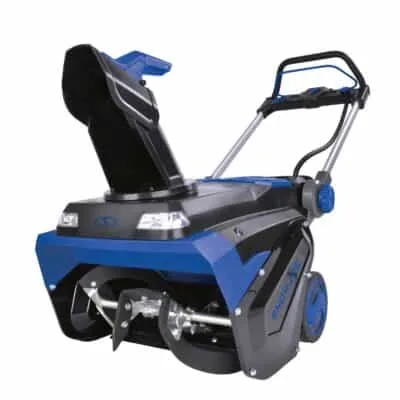 Do you have a large area to clear, but using a gas snowblower is not an option for you? However, you may not have access to a power outlet to operate your electrical device. Fortunately, the Snow Joe ION100V-21SB can meet your needs.
Video demonstration of the Snow Joe ION100V-21SB
What we think of the Snow Joe ION100V-21SB
The Snow Joe ION100V-21SB is a battery-powered snowblower, which means you don't need an outlet to work. But make no mistake, its power is remarkable, and it justifies its high price.
Performance gains can be attributed to the device's 100 V lithium battery, and it has a battery life of 13 minutes. When you buy this device, you also get a charger.
It is possible to buy a second battery and use it simultaneously. Although its price is very high, it provides twice the autonomy.
Its powerful motor offers variable speeds according to your needs. It can blow more than 480 kg of snow per minute, significantly higher than average. Plus, it's all effortless.
Its auger is robust and does not block, even in deep and wet snow conditions. Its working width is large with its 21 in, or 53.3 cm. In terms of its depth, it reaches 30 cm or 11.8 in.
The Snow Joe ION100V-21SB chute rotates 180 degrees like most models on the market. It stands out that it can throw snow a distance of nine meters, or nearly 30 feet.
If you need to use your device when it's dark, that's possible. Two LED headlights are integrated to see clearly in front of you.
The control of this snowblower is done using a few buttons. You can start and stop the device, turn on the lights, rotate the ChuteChute and select the desired speed.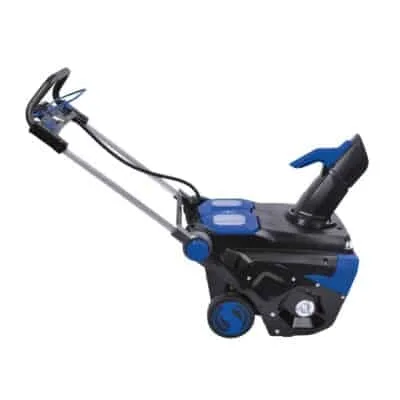 Snow Joe ION100V-21SB Feature Summary
Powerful variable speed motor that can blow 480 kg/1067 lbs per minute.
ChuteChute that rotates 180 degrees and blows a 9m/30ft distance.
Cordless, 1 x 100V, 5 ah battery, for 13 minutes autonomy.
Two built-in LED headlights for nighttime use.
Working width: 53.3 cm/21 in.
Working depth: 30 cm/11.8 in.
Weight: 31.3 kg/69 lbs.
2 years warranty.
Advantages and disadvantages of the Snow Joe ION100V-21SB
Our verdict on the Snow Joe ION100V-21SB
Efficiency5.0 out of 5.0 stars
Design5.0 out of 5.0 stars
Price4.0 out of 5.0 stars
Quality5.0 out of 5.0 stars
The Snow Joe ION100V-21SB surprises with its efficiency. Its price may seem high, but this is the right choice if you are looking for robustness and high power. It allows you to blow an entry in no time without putting in a lot of effort.
3. Snow Joe SJ615E
Shovelling a driveway requires good physical effort, and not everyone can provide it. Of course, a snowblower can help you a lot, but you still need to handle it easily. For a model that everyone can use, choose the Snow Joe SJ615E.
Video demonstration of the Snow Joe SJ615E
What we think of the Snow Joe SJ615E
The Snow Joe SJ615E is a snowblower who knows how to please those limited in their budget. Its low price is particularly due to its power, which is lower than the average.
Its eleven-amp motor does not prevent it from throwing snow at a distance of 20 feet or six meters. It is perfectly designed for small entrances and terraces.
It's not just the price that's low on this model. Indeed, it comes in a fairly compact format. Lightweight, it can clear snow over a width of 15 in, or 38.1 cm, and a depth of 8 in, or 20.3 cm.
This corded electric snowblower is therefore very handy. It can easily be used by the elderly or anyone with little arm strength.
Its two blades are resistant to cold and abrasion, and they are made of good quality plastic. As for the Chute, it can be rotated 180 degrees using the crank.
To operate, press the button and hold the handle. It is well-positioned, and the handlebars allow you to clear snow ergonomically.
Summary of Snow Joe SJ615E features
11 A motor, easy to handle for small areas.
Chute that rotates 180 degrees and blows a 6m/20ft distance.
Working width: 38.1 cm/15 in.
Working depth: 20.3 cm/8 in.
Product dimensions: 106.9 * 43.4 * 88.6 cm/42.1 * 17.1 * 34.9 in.
Weight: 11 kg/24.3 lbs.
2 years warranty.
Advantages and disadvantages of the Snow Joe SJ615E
Our verdict on the Snow Joe SJ615E
Efficiency3.0 out of 5.0 stars
Design5.0 out of 5.0 stars
Price5.0 out of 5.0 stars
Quality4.0 out of 5.0 stars
The Snow Joe SJ615E is ideal for small surfaces, such as terraces. Thanks to its lightweight and compact size, it is very easy to handle. Sold at a low price, you still benefit from a snowblower that will help you with snow removal effectively.
4. Snow Joe SJM988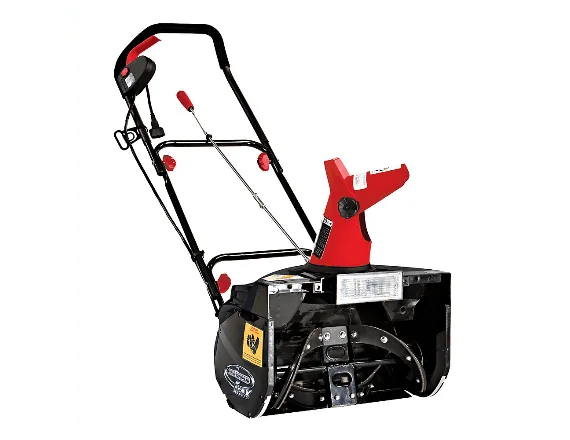 You want to spend as little as possible, but you are afraid that the entry-level will not meet your expectations because you sometimes clear areas larger than a simple driveway? You might want to consider the Snow Joe SJM988, often sold on trading platforms for around $250.
Video demonstration of the Snow Joe SJM988
What we think of the Snow Joe SJM988
The rather modest price of this device is explained, first of all, by the quality of manufacture a little bit below what one can usually find. However, don't panic! It remains reasonably solid, and a 2-year warranty saves you the hassle. Remember to maintain the 4-blade steel auger properly.
Otherwise, overall performance may be affected. These remain quite honest: you clear the snow to a width of 45.7 cm or 18 in, and a depth of 25.4 cm, or 10 in, which is about average.
If you are faced with wet snow, you may have a hard time getting out of it, as it can quite easily get stuck in the chute. On the other hand, you can eject dry snow at a distance of 6.1 m, or 20 ft, without too much difficulty, by choosing your angle over 180°.
One detail we liked: a halogen lamp allows you to work at night, an increasingly popular option, sometimes lacking in this price range. On the other hand, the users seemed to us somewhat tiring. Without being heavier than the competition, the machine is sometimes less fluid to handle and requires effort.
The 13.5 A motor allows you to clear 295 kg or 650 lbs of snow per minute. If you're the type to want to get to the end of your tasks quickly, you may therefore be disappointed by a somewhat slow execution speed. Nevertheless, it is a compromise to accept, necessary to benefit from a lighter average tariff.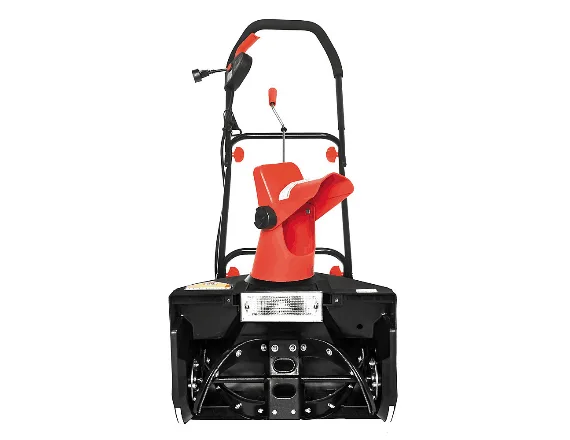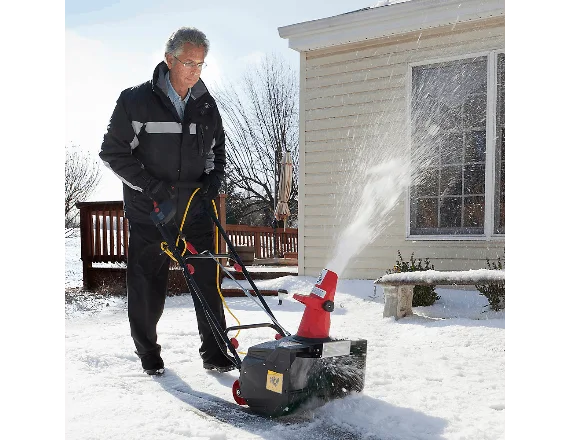 Snow Joe SJM988 Feature Summary
The alternative to avoid the entry level.
Effective on dry snow and medium surfaces.
13.5 A motor, clears 295 kg/650 lbs of snow per minute.
Working width: 45.7 cm / 18 in.
Working depth: 25.4 cm / 10 in.
Product dimensions: 114.3 * 48.3 * 66 cm / 45 * 19.02 * 25.98 in.
Weight: 14.92 kg / 33.9 lbs.
2 years warranty.
Advantages and disadvantages of the Snow Joe SJM988
Our verdict on the Snow Joe SJM988
Efficiency3.0 out of 5.0 stars
Design3.0 out of 5.0 stars
Price5.0 out of 5.0 stars
Quality4.0 out of 5.0 stars
Your budget is limited, and you have to clear dry snow on small to medium surfaces? Even if it is necessary to tolerate some concessions of comfort, the Snow Joe SJM988 should constitute an interesting solution for you, adapted to both your finances and your expectations.
Why trust us
BuytheMeilleur.ca's recommendations are made after extensive research, comparisons and consumer opinion analysis. If necessary, we also interview experts and scientists to get their opinion. You will quickly realize that the products we recommend here are not the most expensive or the trendiest: they are the ones that will do their job best daily, passing with flying colours all safety, reliability and efficiency tests and with an interesting quality/price ratio for you.
In the end, the products we recommend to you are the ones we would want to buy, and the ones we would also choose for our friends and family.
Things to know before buying an electric snowblower
Before choosing a snowblower, you have to take a little time, list your expectations, and determine the desired use. Here are some ideas to consider to help you through this thought process.
The size of the surfaces to be cleared.
Between a modest terrace, a small driveway or a large yard, you will not need the same efficiency. The larger the area you want to get rid of snow, the more you should be prepared to invest.
The type of snow
All devices, including entry-level ones, can deal with dry, loose snow. On the other hand, if you want to clear wet, very wet or very packed snow, you will need convincing raw power, and it means increasing your budget.
Your space and your time
If you want to clear in the evening or at night, don't forget to equip yourself with a model equipped with LED or halogen lights. Also, think about where you want to store your machine: buying one with a foldable handle may be appropriate.
Security
Certain labels, such as ETL certification, ensure North American standards. Either way, to protect yourself, avoid the too-good-to-be-true deals that exist on some import sites.
Our selection criteria for buying an electric snowblower
Do you now know what you need, the concessions you are ready to make, and what you consider essential? Perfect! All you have to do is pay attention to these different criteria.
The price
Here's what you can usually find online:
·
o
§ From $100 to $250: entry-level, for tight budgets.
§ From $300 to $400: mid-range, for most buyers.
§ Starting at $900: high-end, for clearing large areas.
Promotions on blowers exist but are less frequent than on other devices. Here's a little tip: don't hesitate to check the off-season prices. Manufacturers sometimes lower them to better sell their stock!
Mode of operation: wired or wireless
When snowblowers are corded, you usually get an amp (A) rating for the motor. Consider 13.5 A to be an average value. A 15 an engine is generally quite satisfactory.
For cordless snowthrowers, the indication for the batteries is in ampere-hour (Ah) or volts (V). Look for the highest possible value. Do not hesitate to ask other Internet users about the observed autonomy of the machine according to their different uses.
Some marks indicate the amount of snow you can clear per minute or hour, in kg or lb. It is a good indicator of power, but it is generally understood to be dry, loosely packed snow.
Working width and depth
Concretely, this is what will determine the speed of the machine. The higher these values, the fewer times you need to go over the snow. For standard mid-range models:
·
o
§ The working width is usually 45.72 cm / 18 in.
§ The operational depth is generally 25.4 cm / 10 in.
Below, expect to have to be patient. Conversely, above these values, you can count on reduced working time.
Chute and Snow Throw Distance
Apart from very inexpensive entry-level models, almost all electric snow blowers are equipped with a discharge chute, usually adjustable over an angle of 180°.
Ejection distances for dry snow are generally:
·
o
§ 6.1 m / 20 ft on a large majority of models.
§ 7.62 m / 25 ft on some mid-range models.
§ 10.66 m / 35 ft on select high performance models.
Ergonomics
In terms of maintenance, you have to take care of the drill on most electric snow throwers, and the procedure for this is systematically described in the instruction manual.
On almost all the references, the start is done with the help of a simple button. The majority also have ergonomic and retractable handles or telescopic handles.
Solidity and warranty
Snowblowers are often guaranteed 2 or 3 years for the entry and mid-range. In most cases, high-end snowblowers are guaranteed for 5 years, and steel is the preferred material.
Dimensions and weight
First, know that the more you search for performance, the more you risk finding yourself facing a massive device. Nevertheless, there are a few little tricks that avoid unpleasant surprises:
Measure the space where you plan to store the snowblower.
If possible, choose a lighter product to reduce the effort required.